If you are looking for a way to
Get More Leads
for your network marketing opportunity, I am going to show you an easy, automated process to
Get More Leads
using twitter. If you feel stuck in your lead generation, I honestly believe that if you implement what I show in this post you will be able to get more leads to your business
Get more leads by increasing the number of your followers
Marketing is the process of exposing your opportunity to as many people as you possibly can. In
Facebook marketing
, the amount of "followers" that you may have in your facebook profile is limited to 5000. To create a facebook fanpage with more than 5000 people is not as easy as what you are about to learn right now. Twitter allows unlimited number of people to follow you. The ability to build an unlimited number of people following you on twitter,
on autopilot
, is a huge opportunity for every marketer. This technique is something that you can set up in one day and let it run for you in the background. I have used
tweetadder
to build one twitter account from 0 to 15000 followers in 12 months. On the same time, tweetadder has enabled me to connect with open minded people on Facebook. Most of the people that tweetadder locates for me are either network marketers themselves, or business oriented entrepreneurs, and most of them are happy to hear what you I to offer, as I am sure they will be with your offers.
More twitter followers will do more than just allowing you to get more leads
Social proof:
It is about showing what you are capable of. For me right now, to get 15000 followers on twitter is easy. But I remember when I started on twitter, it seemed impossible! I didn't understand how people are getting so many followers! So when I talked with someone that had significantly more followers than me, I listened with respect, and I listened to what he had to say. If you feel that
you aren't been respected
when you talk about your business, building a huge followers in twitter will give you a little edge with your lead.
building your list:
Your twitter followers are a cold market, but because you can have so many of them, it is just a matter of simple statistics to find leads that are responsive to your marketing.
Traffic:
Twitter is a great way to drive traffic to whatever webpage that you want to promote on the internet. I use
socialoomph
to setup
recurring tweets
for every blog post that I write, and to revive old blog posts. Whenever I have a new business opportunity or some product that I want to promote, all I need are 140 characters which includes a link to a webpage that describes the opportunity and whaaam… you get instant exposure.
Marketing is a numbers game, and to get more leads for your marketing, twitter allows you to play this game with large numbers.
twitter is also a
social network
, and if you use it as such you can really connect with people on twitter itself. If you want to know how to use twitter in order to sponsor right out of this platform, check out this
twitter webinar
. I must admit that this is not the way that I use twitter at the moment. The reason is that I love to use twitter is as a bridge to get my followers to the "next level", and the
FASTER
I can get a follower to connect with me on Facebook is better. As a result of the system that I demonstrate in the video below I 
get 20 friends requests
on Facebook every week. This system is completely automated and therefore it is excellent for those of you who have very limited time. Check out this short video in which I show exactly how I do it: Just imagine what would happen to your business when you will get more leads every week on autopilot using this twitter system.
Some more tips on using this system:
I almost never sponsor right out of twitter. I use twitter as a medium to make the first contact and then transfer the lead to another place where a more intimate connection can be made (for example: Facebook).
This is the way to covert a twitter follower to a Facebook friend: Set Tweetadder to send a automated "thank you message" that says:

"you're cool! Lets connect on Facebook too:

link to your facebook profile" and you will get friends request daily from people on Facebook.
I never read my direct messages in twitter because I get so many of them everyday.
I look for leaders in the industry like Ray Higdon, David Wood, Mike Dillard, etc., and then I follow their followers.
I use an Excel file to track which twitter account is following the followers of which industry leader (to minimize the possibility that the same twitter user will follow me twice in two different accounts).
As you can see in the video, nowdays I use my twitter accounts mainly as a "marketing horn", meaning, I just use it to shout out my marketing, and those who respond I engage them on Facebook or on my blog. It hasn't always been like that. In the past I used to be more active in engaging with my followers in twitter itself (which involved tweeting, mentioning, retweeting and even
auto-retweeting
).
Get more leads using twitter – Should YOU use it?
Bottom line, if I had to start my business all over again right now, buying tweetadder and building my followers on twitter would still be the first thing that I would do. This is one of the most cost effective products out there:
1 account – $44.
5 account – $74 .
10 accounts – $110.
unlimited accounts – 188$.
All options are one-time fee, which will allow you to get more leads for life. Just think about it: Using tweetadder I build one account from 0 to 15000 in 12 months. What's stopping you from building 5,10 or even 20 twitter accounts simultaneously? This way you can have
over 100000 followers in less than a year!
So if you are feeling frustrated about your lead generation, know that your break through can be very close. Tweetadder was the first product that I ever bought in my business, and it is still the first product that I recommend.
=> Click here to download and test tweetadder for free now <=
If you have your own server that allows running php, I have a small php script that enables you to extract the twitter id of the followers of a certain twitter user so you can import them to tweetadder later on (tweetadder has this feature but my script allows you to get 10 times more followers on one run). If you buy tweetadder from my link here, send me an email with the
time that you bought the program
, and I will send you the script, and instructions how to use it. To Your success in life Hezi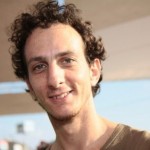 Join me on my Facebook Page: 
Hezi on Facebook
Follow me on Twitter:
Hezi on Twitter
Connect with me on
Google+
Skype: hezi.h
PS: If You Still Do Not Have a Step-By-Step Blueprint For Success, Check This Out (Unless You Already Have Too Many Leads) – Click Here For Instant Access
How about you? Do you use twitter to get more leads? If so, me and the future visitors would appreciate your tips in the comments below! Image source:
sxc.hu
.
The following two tabs change content below.
Online marketer, social media expert, and all around great guy. Hezi coachs people on internet marketing and on how to make money from home.
Latest posts by Hezi Hershkovitz (see all)