If you are considering doing your first steps in internet marketing, I'm going to explain in this post why should you choose
network marketing
and not affiliate marketing. Some people, when they hear the term "network marketing", have an immediate impulsive rejection. I believe that it is too bad. For them. Especially for internet marketing newbies,
network marketing
has a huge advantage over affiliate marketing, that can save a lot of money, time and effort. But first..
How to make money in affiliate marketing
What attracts many people to online marketing is that they hear that they can earn money on the internet.
A lot of money
. According to rumors, a few years ago it was even pretty easy to do so with simple affiliate marketing strategies. The book "Google Cash" is a book from 2003 (look for it in Google). In this book, the author Chris Carpenter describes how easy it was to make money in
affiliate marketing
10 years ago: EBay, for example, paid $5 for each client who subscribed to the site (for free). What Chris had done was using Google pay-per-click ads (what is called Google PPC), and directed people directly to the EBay site. And he would find enough relevant keywords for which he paid five cents for every person who clicks on his ad. Back then, the affiliate marketer's job was to know how to find lucrative offers and connect them to Google, Yahoo and other search engines advertising platforms. Conversion rates were high because people were really looking for something in the search engines, and Chris was paying pennies to give them what they wanted. And he also did not have to work hard to do it: He was just sending them directly to the company website.
Affiliate Marketing – What is happening today?
In Clickbank, a very popular
affiliate marketing
marketplace, the average commission for an affiliate product with a reasonable gravity (which means there are people who advertise it) is usually around $20. The average keyword in Google keyword tool is more than a dollar per click. There are even keywords that you need to pay more than $40 per click!

How can you run successful advertising campaigns in these conditions? How can you make money in a campaign where you pay $40 per click? The truth is that to succeed in affiliate marketing today, and make some real money, you must be a professional. Marketers today build websites, capture contact information, build mailing lists, and offer their lists a number of relevant proposals. For example, if someone is searching for the keyword "car loan", they can also offer him "car insurance". By offering several relevant proposals, they can increase their profit per lead and pay these outrageous prices per click on their advertisements. Today, most of the people who are doing affiliate marketing are involved in SEO to get organic traffic from the search engines to their offers, since Google ads are just too expensive. So you too will need to learn the skill of SEO, which each is another high barrier. They also make optimizations for their pages to increase conversion rates. Pre-sales, video marketing, copywriting, NLP, everything that is needed in order to eventually make the sale, which is the goal that they seek. Is it possible today to make money in affiliate marketing? The answer is certainly yes, but it's not easy, since a newbie will have to master many new skills. He can try to acquire these skills from free resources in the internet, wasting a lot of time, or he can waste a lot of money buying very expensive courses that might shorten his learning curve.
Internet network marketing vs affiliate marketing
In the past, network marketers often had to chase their friends and family, or to ambush local customers at the mall. Most of the marketers today still do that. Those who are using the internet to build their business see much resemblance to affiliate marketing. Network marketers also build websites, capture contact information and offer their lists all kinds of offers in addition to their main program. I for example, promote
MLSP
to my list, a tool that helps me a lot in my business. I'm also promoting several others affiliate programs. Same as affiliate marketers, online network marketers should learn to get traffic to promote their sites. So they need to learn the skills of SEO or to master paid advertising. In short, online network marketer isn't easy as well. So where's the difference?
The difference is the support
As an affiliate marketer, your goal is making a sale. After making a sale, there is no connection between the you and the person who bought the product. In network marketing, on the other hand, the support is built-in the compensation plan If you want to learn internet marketing (which includes building websites, mailing lists, article marketing, etc.), you can join a team that is doing
network marketing
online and learn their methods. They will teach you! Your success will inevitably lead to an even greater success for them as well. No one has any interest in teaching you affiliate marketing! Imagine that you discover an amazing way to get traffic from Google for one cent a click. Would you share it? And create yourself a competitor? Of course not! At least not for free. And that's why so many affiliate marketers require a lot of money for their training. And now, imagine that your MLM sponsor had found the same technique how to get Google clicks for cents. Do you think he'll teach it to you? If he is smart he will, because he will be rewarded from sales that you create using it. While for affiliate marketers the sale is the end of the relationship with their customer, for network marketers the sale is just the beginning. Because after you join, your team, if you chose a good one, will have to teach how to achieve your own success.
Internet Marketing for Newbies – Why should you choose network marketing
You can make money online, in affiliate marketing or in network marketing. In both cases it requires perseverance, learning, and professionalism to get results. It's not easy money, but those who persist either way will get results. The advantage of network marketing is the power of the group.  It can give you guidance on methods that are working now, shorten the learning curve needed to succeed, and ultimately save you lots of money on unnecessary training or unsuccessful attempts. The group also can provide a supportive environment by motivating you in times when you are low, or provide you drive when you see someone else who has success. However, there is one huge disadvantage for internet network marketing: where can you find a team of online network marketers team that knows what to do? If you are really serious about your success, I'm looking for you. This year I'm going to take a number of people and work with them, teach them everything I know that brought me to my success.
=> Click here to work with me <=
To Your success in life Hezi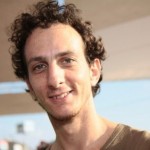 Join me on my Facebook Page:
Hezi on Facebook
Follow me on Twitter:
Hezi on Twitter.
Skype: hezi.h
PS: If You Still Do Not Have a Step-By-Step Blueprint For Success, Check This Out (Unless You Already Have Too Many Leads) – Click Here For Instant Access
Image: savit keawtavee / FreeDigitalPhotos.net
The following two tabs change content below.
Online marketer, social media expert, and all around great guy. Hezi coachs people on internet marketing and on how to make money from home.
Latest posts by Hezi Hershkovitz (see all)