A
MLM Blog
can be one of the best ways to promote your online MLM Business and in this post we gonna share some insights from Ray's Higdon course on how to build a successful MLM Blog. Ray's blog was selected the #1
MLM Blog
in a blog contest sponsored by
MLSP
(in my humble opinion, the best lead generation and attraction system to date).
3 Practical Tips to fast success with your MLM Blog
1. Consistency
– Decide on how frequently you will be blogging. Best if you can blog everyday, or at least 4-5 post a week, so your MLM Blog will be full of content.
2. Answering the needs of your prospects
:
What do they want?
What do they need?
On what area do they struggle?
What are their common problems??
3. Process
– You should create a daily routine on how you gonna create and promote your MLM Blog: Example of what we to do in our daily routine:
Comment on other blogs
Promote my blog on FaceBook
Promote it on Twitter using TwitterAdder
Use TribePro to get thousands of backlinks and improve SEO
The 2 Big Challenges when building your new MLM Blog
1.How to come with good& Fresh content? 2. Why should someone listen to you ? In the beginning I had found it very challenging to find good and interesting content for my MLM Blog, but now I have more ideas than I need in order to create a great MLM Blog. If you apply the concepts in this post, you will never get out of ideas to create  your posts. Let me give you now some good ideas on how you can come with fresh content on a daily basis. Part of of them are from Ray's course , part are of them are my ideas: #1
Go over trainings and books that you have
: As an online marketer, you should always be in a learning mode. After you go through a good course just share what you learned exactly how I am doing now. You will find tons of free training inside
MLSP
, so just pick one, learn something new and then create a post sharing what you learn! This will give great perceived value to your MLM Blog #2
Ask people
: Find what are the biggest challenges from other people inside your niche. What are they struggling on? What are their biggest challenges in Internet/Network Marketing? What are yours? Simply write about these topics. Typical questions for a network marketers can be :
How to generate free MLM leads?
How to earn more money?
#3
Go to a good bookstore
– Pick 3-6 Good Books on personal development, business & Marketing. Go over them quickly and you can easily have an almost ready post: – 5 ways to improve communication – 10 Sales Ideas that can make you money now
Advantages of this approach:
– Get you out of your home to meet good quality prospects – Unlimited content to your MLM Blog – It's free #4
Blog about insights you have when you are working your MLM Business:
If you are working hard (like you are supposed to if you want to make money), you will have a lot of aha moments. Writing posts about these moments will give great value to your readers and also help to connect them to you. I love posts also about special moments in life. For example, check the post I wrote on
Business Lesson from the offline world
And my best tips : #5
Just use your blogs to coach your team
: If you have a MLM team, your main role is to coach them on how to be more successful. You can use your site to give them this information. A great example of that is a full tutorial on how to build a blog we put here on our blog A quick WordPress Guide
http://successhowto.com/wordpress-guide-tutorial
MLM Blog

Flow :
When creating your MLM Blog, do the things in the right order: Before you try to get traffic , get good content Before you have good content, learn how to capture contacts Before you capture contacts, learn how
to call your leads & get people buying from you
! Unfortunately for us, we actually had started the other way around! This was an aha moment that I learned from my mentor Ray, and it can save you a lot of money. The cool thing is that when you buy Ray's course on how to call your leads, you will get an MLM Blog course for free :<)) I bought a lot of courses, but Ray's mastering sponsoring course is by far the best investment I ever made in my business. Why ? Because learning how to call your leads is the most well paid skill for a networker !! If you don't know how to correctly call your leads you are working harder and making less money that you can !!
=> Click Here to get Ray's course (or be left behind) <=
To your success, Hezi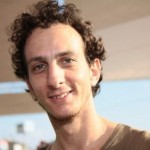 Join me on my Facebook Page:
Hezi on Facebook
Follow me on Twitter:
Hezi on Twitter.
Skype: hezi.h
PS1:This is the 1st part of 4, from Ray's course on how to create a successful MLM Blog. Subscribe in the "50 leads a day" web form in the top of the right side bar, so I Can Send you an email when the other parts are done
PS2: If You Still Do Not Have a Step-By-Step Blueprint For Success, Check This Out (Unless You Already Have Too Many Leads) – Click Here For Instant Access
Image: digitalart / FreeDigitalPhotos.net
The following two tabs change content below.