Thank you for stopping by the TweetAdder review. If you trying to be an online marketer, and you still haven't used
Twitter
, it is about time that you start. Twitter is right now in the top ten most visited sites online, and it growing in size everyday. Twitter can be a great tool to:
News – Learn in real-time what is going on around you.
Socialize & Networking – Easily meet new, like-minded,  people, that can help you in your life or in your business.
Marketing – Sending your messages and products  not only to your followers but possibly also to those who are following your followers, and their followers.
It is relatively easy to meet new friends\customers in Twitter, and unlike Facebook which limits your friends to 5000, there is no actual limit on the number of followers you can have on twitter. That is why so many marketers love it, because it allows them to market their products to an endless number of customers. You want customers? It is simple:
Just get more followers!
However, for busy people like us, cultivating our twitter account followers it is a waste of time, since it is a boring and repetitive task. This is exactly where a
twitter bot
automation tool fits in: Yes I am using twitter automation tool. The tool that I am using to automated my twitter is called
TweetAdder
and I think that this it is a great piece of software. In fact, If you are reading this post there is actually a huge chance that you have come to this blog through my twitter account, which is almost solely controlled by Tweetadder. I have been using
tweetadder
for a month and a half now and these are the results that I got:
Update: After 4.5 month, I have accumulated over 7000 followers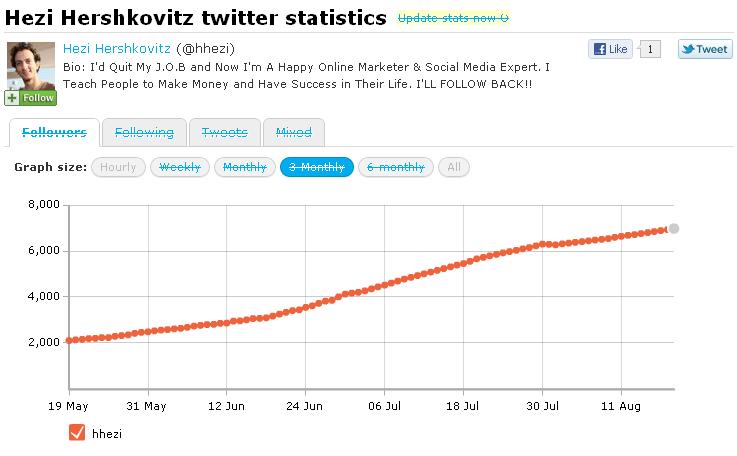 Click here to see my current results:
hhezi followers on twittercounter
TweetAdder benefits:
1) small
one-time
fee And a relatively small one, only 55$ for one account, 10 profiles for 110$. Most of the other solutions that I have checked mostly require a monthly fee, and since once you have started using automated tools to control your twitter account there is no reason why you should stop growing your followers, it is better to have a one time fee. TwitterSpinner is for example 15$/month, which means that if you need more than 3 month, buying
TweetAdder will actually save you money
.
2) FREE to try
(up to 250 followers). A very smart marketing move was to allow to try for free the complete
tweetadder
software, with all its features. This software is so powerful, that once you use it and see how easy it is to get these 250 followers in auto pilot with it, you probably will purchase it.
Start Using TweetAdder For FREE To Get More Followers Right Now
What

tweetadder

doesn't have:
The search tool is really strong and fast, allowing you search for keywords inside people tweets or bios,  but I do feel that  I could have used regular expressions, which are not supported.
Beside the Disadvantages listed above, I must say that Tweetadder is the best solution and the cheapest that I have heard of, and this is my most honest and noble opinion with the information that I have at the moment. Here is a little video that I made that shows you how to use TweetAdder:
How do I use Tweetadder
Find new interesting people to follow using keyword searching their bio or statuses.
Unfollow those who do not follow be back within a few days.
Follow back on people who started following me.
Sending "thank you" messages to those who started following me
Sending reoccurring tweets
The power of automating Twitter lies on the last two points. 
We all started doing online marketing to make money,
and you must realize that once you have configured the software, it operates completely on autopilot, sending your messages to your automatically ever-increasing followers, sending them to your blog, posts, landing pages, affiliate programs,  MLM capture pages etc,
earning YOU money.
Bottom line is that I believe if you use TweetAdder correctly, you will be able to return its cost. A twitter follower can  "worth" 3$/year , it depends on how you use your list. But creating the list on autopilot, is a huge advantage, and it leaves you with plenty how time to think of ways how to use this list.
This was my honest review about TweetAdder. That is why I recommend every online marketer to use it. However, you should be really careful not use it recklessly, or you will be flagged as a spammer, and your twitter account might be suspended.
To your success! Hezi Hershkovitz PS: You can get updates like this and others by entering your name and email in the top right box of my site.
PSS: If you don't have a plan for your success check this out (but only if you are serious about your business).  

Click Here For Immediate Access
PSSS:
If you are a twitter fan and you are curious about how you can use TweetAdder to earn money, you should definitely check out the free twitter one HOUR LONG webinar packed with tips of how to use this tool to market effectively online:
>>>>>>> FREE TWITTER WEBINAR <<<<<<<
It will require you to opt-in, but it is totally worth it, and you can un-subscribe at any time. If you enjoyed this post about TweetAdder, we would like to hear your thoughts, so leave your comments below. Do us a quick favor and share it with others.
The following two tabs change content below.
Online marketer, social media expert, and all around great guy. Hezi coachs people on internet marketing and on how to make money from home.
Latest posts by Hezi Hershkovitz (see all)