Twiends is a little application that I have found about a month ago. If you are a businessman, artist, or independent entrepreneur, then you mostly likely already have a Twitter account. But did you know that there is now ways for you to gain more followers, thus heavier traffic, and have a whole new community know about your product? The new tool known as Twiends has made a buzz in the social media world. And the best part? Yes, you guessed it right: Twiends is absolutely FREE.
****** IMPORTANT UPDATE – Jan 10th, 2012 ******
Twiends used to be a great twitter application to get followers and you tube likes. I am not using Twiends anymore, since it doesn't support youtube anymore, and they are better ways to get followers, in my opinion.
- To automatically accumulate youtube views, likes, subscribes and comments for FREE I highly recommend that you use Vagex or AddMeFast (or both..lol). You can even get paid for it!
- To get more followers I suggest that read the post how to get more twitter followers.
****** END OF IMPORTANT UPDATE  ******
Twiends Review – The Basics
I want to start off by letting everyone know that Twiends is not your day to day automated program. You actually have full responsibility in who you want to follow, as well as who you want to unfollow. Remember that the site is particular with how you handle people or members in their community, so be sure to use non-aggressive ways as you go along the process of gaining more followers, etc. After all, you would not want to be banned from twiends and much worse-from Twitter itself, right?
Twiends is easy to use and once you give it a try on their website, you will see that it's simple to become part of the community. You will need to sign up using your Twitter account and once you do that, off you go. What's great is that you automatically get bonus credits when you join and then you will be able to earn more credits as you follow tweeters.
For each credit that you recieve you can use it to:
let people follow you
advertise your youtube movie
advertise your facebook fanpage
A nice feature which many Twiends users like is the fact that they can set their interests and location, so once you have your account and set it up, you will be able to see others with the same interests or in the same geographical location as you. This is where you start off in choosing who to follow using twiends and vice versa (other users will see your information and may add you based on it).
My Twiends Results
They say that one image is worth a thousand words. So take a look at the following image: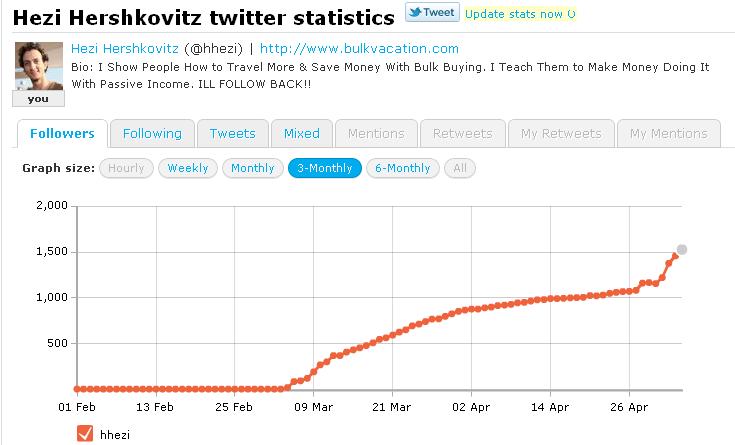 Less than a week ago, in our post about TweetAdder we said that there is no way to avoid the deceleration of the growth of the followers, even when using such an automatic tool for generating tweeter followers. Well, it was fate that we have found about twiends the day we posted that article, and you can see the results that we were able to achieve when using Twiends: Almost 500 followers in one week.
By the way, this number could have been even higher, if we weren't so busy on our other projects. On average we played with Twiends no more than an hour a day.
If you are an online marketer with a tight budget, and you have spare time, Twiends is probably the tool you were looking for. It is also a great site to absurb new ideas through watching videos, but beware not to over do it if you value your time.
Twiends people are real, not twitter bots!!
Still, just like with other Twitter tools, I suggest you keep an eye out on spammers. There aren't many of them on this site, but of course one or two will somehow find their way to you, so it is best to , be safe than sorry. There is a way to configure through your profile settings so that you will only be followed by users that are legit.
If you are just looking to increase your number of followers and those you follow, Twiends will definitely be of great use. If you like the site, and you will, there is even a way to buy credits, so that you can grow your followers even faster and relatively cheap (as low as 4 cent per follower!!!).
Last but not the least, Twiends has added more options for its users. Now you can add your Facebook page/s or youtube videos  so that you will end up getting more likes and add your website too. Of course doing the latter means gaining extra hits and traffic, which is definitely a good thing. When you go to Twiends, you will see their fresh new design and easy to navigate options. Let's go out there and build a bigger, as well as bigger social media community today.
To your success!
Hezi & Adriano
PS: You can get updates like this and others by entering your name and email in the top right box of my site.
PSS: If you don't have a plan for your success check this out (but only if you are serious about your business).  

Click Here For Immediate Access
PSSS: If you are a twitter fan and you are curious about how you can use this tool to earn money, you should definetely check out the free twitter one HOUR LONG webinar packed with tips of how to use this tool to market effectively online:
>>>>>>> FREE TWITTER WEBINAR <<<<<<<
It will require you to opt-in, but it is totaly wotrth it, and you can un-subscribe at any time.
If you enjoyed this Twiend review post, we would like to hear your thoughts, so leave your comments below. Do us a quick favor and share it with others.
Onine marketer, social media expert, and all around great guy. Hezi coachs people on internet marketing and on how to make money from home.
Latest posts by Hezi Hershkovitz (see all)