RSS stands for "Really Simple Syndication" and yet, for something that is supposed to be simple many people don't know what it is, and what 
using RSS
can do for them. We have gathered the main 5 tools that we are
using RSS
today and believe that everybody should know it too. Using these tools will allow you to
Get updated a lot quicker about new developments in your niche.
Build stronger relationships with bloggers and people within your niche.
Enhance your connection with visitors to your blog.
Build backlinks and eventually increase the traffic to your blog.
So how are we using RSS?
1) Using RSS to connect to other blogs
The first way that we are
using RSS
is to keep track on what is going on in our niche. With so many websites in the internet today, it is time consuming to get into each and every site to check if there is anything new happening, and as you know wasting time is like wasting money. A more efficient way to do this task is to setup a location where all the websites that we like will alert to us if they have been updated. This location is called "
RSS Reader
" and there are many services that will allow you to do just that. After checking a lot of them, we personally use
FeedDemon
, but we know that a lot of people are using
Google Reader
. Using RSS reader allows you to get the latest posts that all your favorites blogs had posted without the hassle of actually navigating to the websites themselves. In addition, you can take advantage of a known psychological phenomenon where people tend to check only the first comments in the post. Since you are getting the information that the posts have been published very close to the actual time they have been posted, a lot of the time you will be able to the be among the first to comment to them. And if you leave a link to your blog, eventually you will see an increase in the traffic to your blog.
2) Analyzing your RSS subscribtions
If you have a wordpress blog, then you also have an RSS feed, that people in your niche are using to keep track of what you are posting. The default generic RSS feed provided by wordpress is simply ugly incoherent text. Using RSS
FeedBurner
will allow you to make it more pleasant for visitors to subscribe to your feed. This is ugly (the default feed):

And this is how it will look like after you setup your FeedBurner account: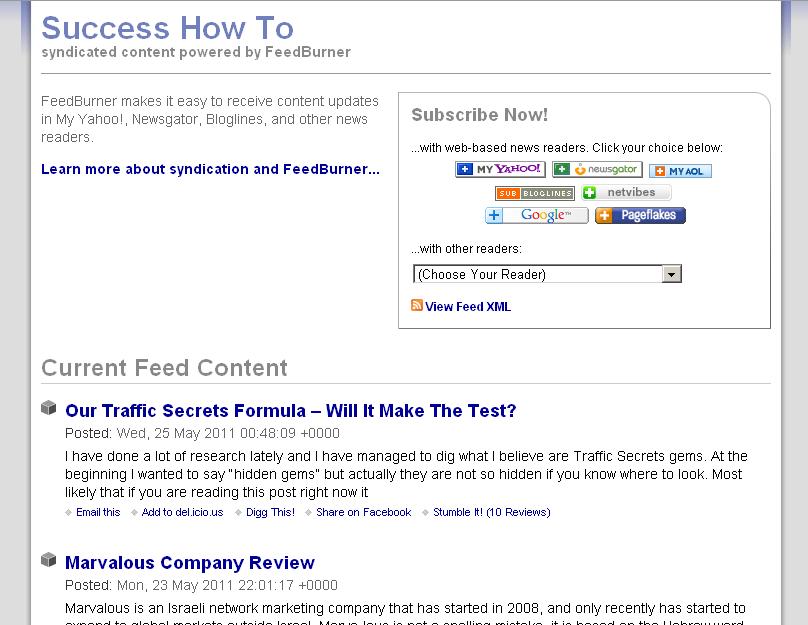 Another reason that you want to "burn" your feed with FeedBurner is that it will allow you to analyze your RSS subscribers and see how many of them actually read your posts. Subscribers are your most loyal fans, and it is important that you keep track of them.

The above image is an example of how it is look like. The green line is the number of subscribers, and the blue line is the number of views the site has had through the feed. Installation of FeedBurner is beyond the scope of this post, but we recommend that you check out this link for detailed instructions of
How To Setup FeedBurner Feed
3) Is Seth Godin using RSS?
This little trick is not only about using RSS, because you can actually use it for any other message that you want new or returning visitors to your blog to see above or below the content of your post. It is a wordpress plugin called "what would Seth Godin Do" and we use it to suggest our new visitors to subscribe to our RSS feed. The reason for the funny plugin name is this little quote from a very old Seth Godin posts:
"One opportunity that's underused is the idea of using cookies to treat returning visitors differently than newbies…." – Seth Godin, August 17, 2006
You can learn more about this plugin in this excellent video by ChrisRecord  
"What Would Seth Godin Do? WordPress Plugin Trick"
4) Using RSS to Connect Between Web Services
We have already mentioned TwitterFeed in our post
How to Auto Retweet
, where we explained how can we use the RSS generated by Yahoo Pipes and syndicate it back to twitter. But this was just a private case of the many occasions where you want to pass information between web services. Using RSS can also allow you to:
Syndicate your posts into twitter, facebook and other social media sites
Syndicate your youtube videos into twitter, facebook and other social media sites
Tweet interesting people from your niche directly to your tweeter timeline
Post articles directly into your blog (semi-auto-blog)
Once you understand what is possible, you will start to see ways for using RSS in many other aspects of your blogging.
5) Using RSS to Syndicate your backlinks
We still haven't tested it ourselves yet, but apparently submitting RSS feeds to these
blog directories
will increase traffic and exposure to your blog by creating backinks to your blog posts. Anyone who have done it in the past, and can report the results will be highly appreciated. To your success! Hezi & Adriano PS: You can get updates like this and others by entering your name and email in the top right box of my site.
PSS: If you don't have a plan for your success check this out (but only if you are serious about your business).  

Click Here For Immediate Access
Image: renjith krishnan / FreeDigitalPhotos.net
If you enjoyed this post about using RSS, we would like to hear your thoughts, so leave your comments below. Do us a quick favor and share it with others.
The following two tabs change content below.
Online marketer, social media expert, and all around great guy. Hezi coachs people on internet marketing and on how to make money from home.
Latest posts by Hezi Hershkovitz (see all)