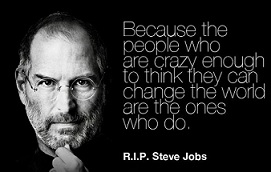 It is sad that we are reminded to talk about someone only after he is gone, but I guess this is just the way things work.
Steve Jobs
died tonight, and there is so much to say about this giant entrepreneur. Some say that he was a crazy, perfectionist, who was a very hard boss that yelled over his employes. Some would say that his fans are just crazy and would buy his stuff even if it was crap and he sold it for $1000 they still would stand in line at 4am in front of the iStore to buy it. But everybody should agree that
Steve Jobs
did what he loved to do. That he had found was he was passionate about, and used it to create things that millions of people around the world are using on a daily basis. From proportionally spaced typography on your screen and to beautiful videos of Pixar, we all owe this man something. You can say a lot of things about Steve Jobs, but I will let him say them to you in his own voice. The first is from an Apple commercial in the "Think differently" campaign. The one below, with Steve's voice narration, was never used. They used Richard Dreyfus voice instead, but looking back it seems that this one is much better:
WATCH:

Steve Jobs

– Think Differently Commercial:
The second video is from a A commencement address that Steve Jobs gave to Stanford University's class of 2005. There are so many life lessons and motivational inspiration in this speech, here are but a few: – "Your time is limited, so don't waste it living someone else's life. Don't be trapped by dogma – which is living with the results of other people's thinking". – "You can NOT connect the dots looking forward . you can always connect then looking backwards" – "Stay Hungry , Stay Foolish" And on 9:02 he says
"If you live each day as it was your last one , someday you will certainly be right"
Unfortunately, today he finally got it right.
WATCH: Steve Jobs' 2005 Stanford University Commencement Address:
May he rest in peace.
The following two tabs change content below.
Online marketer, social media expert, and all around great guy. Hezi coachs people on internet marketing and on how to make money from home.
Latest posts by Hezi Hershkovitz (see all)