In the recent years, article directories have been known as the 'key' to drive traffic towards a marketer's website. Experts in the field of SEO marketing made use of these directories and recommended them to other aspirants as well. All of this changed when Google's Panda update came to the scene. With just a simple change in algorithm, popular sites such as articlebase and ezinearticles started to loose traffic. As you can see, ezine's previous strong hold in traffic, went down by 13% in just a span of 1 month: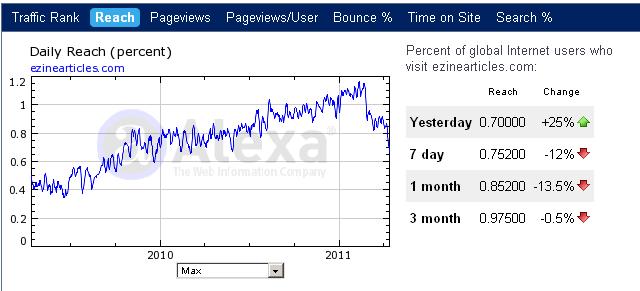 articlebase's traffic is down 11% within one month: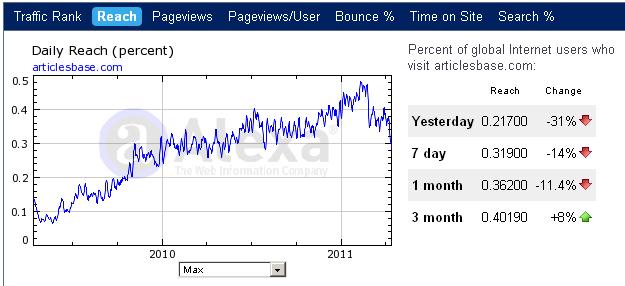 We all know that articles do wonders when it comes to online marketing. People from all over the globe constantly use the web to read and learn new things. Article writing for heavy traffic was one of the best strategies, until Google changed its algorithm. Due to the fact that thousands of new articles were being published each day, it seemed like their quality became questionable. Google wanted readers to get quality content because if they kept bumping into low-grade articles, chances are, they would eventually stop reading articles. So if you are one those marketers who solely relied on articles, it is time to make a change. The first thing that you should do is get your own domain and have your own blog site. This way, if people got the chance to read the writings on your page and liked them, then you would not be part of the downfall. You will even see an increase in terms of site visits because everyone else is losing ranking power.

Think of it like this, with your own site and content on that site, visitors will see your main property first hand and you won't have to spend so much time focusing on article directories.  Focusing on your content and your page will surely bring forth positive results, don't you think? Don't worry about your affiliates because there's still a way for you to get the best of both worlds. You can do this by writing articles, sending the links to your page (making sure these articles will create an impact on readers and bring you sales), instead of directly sending links to your affiliates. When done in this manner, you will actually become your own boss and people who end up reading articles on your page, will remember you as someone who actually delivers 'quality'  and worthy content.
The following two tabs change content below.
Online marketer, social media expert, and all around great guy. Hezi coachs people on internet marketing and on how to make money from home.
Latest posts by Hezi Hershkovitz (see all)