There are lot of people posting quotes on Facebook, twitter and so on, but sometimes I ask myself wheter they are using that
success quote
on their life ? I saw a great video on how a good
success quote
can change someones life if you act upon it!
Success quotes – My favorites
So, here are some of my favorite success quotes that I am living by:
You will get all you want in life if you help enough other people get what they want.-Zig Ziglar If you can dream it, you can do it. – Disney "Your time is limited, so don't waste it living someone else's life. Don't be trapped by dogma – which is living with the results of other people's thinking. Don't let the noise of other's opinions drown out your own inner voice. And most important, have the courage to follow your heart and intuition. They somehow already know what you truly want to become. Everything else is secondary." – Steve Jobs famous Stanford speech "How would the person I'd like to be, do the thing I'm about to do?" – Jim Cathcart Profits are Better Than Wages by Jim Rohn Reflect upon three things and you will not come to sin. Know from where you came and where you are going and before whom you are destined to give account and reckoning. – Akavya ben Mahalalel , Ethics of the Fathers, 3:1 "What is hateful to you, do not do to your fellow" – Hillel, the Elder – Shab. 31a Do not judge your fellow until you are in his place- Hillel, the Elder. Ethics of the fathers 2:5
And here is the video
Now , what about you ??Do you have a special success quote ?
Please send me your best success quote in the comment bellow !
To your success, Hezi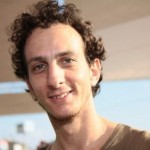 Join me on my Facebook Page:
Hezi on Facebook
Follow me on Twitter:
Hezi on Twitter.
Skype: hezi.h
PS: If You Still Do Not Have a Step-By-Step Blueprint For Success, Check This Out (Unless You Already Have Too Many Leads) – Click Here For Instant Access
Image: photostock / FreeDigitalPhotos.net
The following two tabs change content below.