I have done a lot of research lately and I have managed to dig what I believe are
Traffic Secrets
gems. At the beginning I wanted to say "hidden gems" but actually they are not so hidden if you know where to look. Most likely that if you are reading this post right now it means that this system that I am about to describe to you is working. So if you want to know how I did it I suggest that you keep on reading.
First let's show some results:

Since the beginning of May, I have used specific method that as you can see from the graph have produced good results. In the following paragraphs I am going to reveal the traffic secrets that allowed me to get these results, and why do I think that if I keep using it, I will get even more traffic.
Keyword Research of the Traffic Secrets
When it comes to search engines usage there are two ways to drive traffic to your site: PPC or SEO. PPC is a quick way to drive traffic to your site, but it cost money. You stop the money, the stream of visitors to your site disappears. It is a good way, but you must keep track of your ROI (Return On Investment), and it means that you need to know have much does a visitor to your site is worth to you. This site currently doesn't use PPC at all. I like SEO better, because it is like investing in real estate. Once you get your keyword to the first page of Google it will just stay there, giving you a steady, predictable stream of visitors everyday. It is a lot harder to outrank a post that it is already in the first page of Google. If you remember my
90 days blogging challenge
, then you must know that it is not enough to generate everyday just any content. If you are doing your keyword research correctly, then you can estimate even before you start writing the post how many daily visitors you will have. There are two parameters that you need to check: Searches per month and SEO competition.
HINT: The number of searches per month is NOT the number of visitors that you are going to get. On average, the first place in Google gets 42% of the clicks, 2nd place gets 12% of the searches, and number 10 gets 3%. This is why you want to be in first position.
To check for clicks per month I usually use
Google keyword tool
. I usually look for keywords that are searched at least 2000 times a month (less than that it is just a waste of my time). After I find a word that I like, I use the SEO competition analysis in Market Samurai to check if I can squeeze this word into the first page. This is how the result of the analysis in Market Samurai looks like: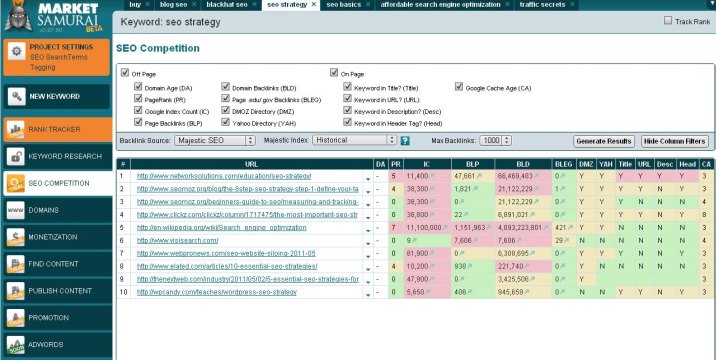 The full analysis of this map is beyond the scope of this post, but basically if you see too much red spots in there – stay away! There are a lot of video guides explaining about the use of this wonderful software, which I totally recommend. You can download the complete tool and test for a whole 12 days at no-cost.
The Traffic Secrets of Our In-Post Optimization
After I have picked my targeted keyword, the next two phases in my traffic secrets formula are designed to make sure that the post that I am going to write which contains this keyword will land as higher as possible in Google search. The higher my post will be ranked for this specific keyword, the more visitors I will get to my blog.
HINT: If you continue with this method everyday, every post that you write will ensure that your blog traffic will increment over time.
Only recently I have found a great post that pretty much summarize the whole In-Post SEO optimization:
SEO Checklist For Blog Posts
. Just follow the rules described in Sandy's post and you would be fine.
Backlinks Traffic Secrets
This part of the traffic secrets formula is still relatively new for me. I have been playing around with
Tribepro
for about 2 weeks now. The tribe concept, where the tribe members are promoting each other blog posts, is so strong when it comes to advancing your ranking in the search engines, that if you are not part of a tribe you are definitely going to be left behind. I believe that this is the future of SEO, so I fully recommend it (even that it costs money). If TribePro is in charge of the social backlinks, and keeping your presence in the social media sites,
Article Marketing Robot
is in charge of actual backlinks from article directories, which is exactly what I already explained in one of my first posts in this blog,
The Down Trend of Article Marketing?
I have played with AMR in the last couple of weeks and I must say that I am impressed. I am still on the trail version so I didn't use this tool to its full capability, but within minutes I was able to generate dozen of backlinks to the posts I wrote just yesterday about Marvalous. Here are some examples:
Example 1
Example 2
Example 3
The Traffic Secrets Formula
So we covered all the aspects that are related to generating the traffic to our blog. From the way we pick our targeted keywords, the way we write the posts and the way we create backlinks to them. There is no reason that you won't be able to follow what we are doing and get the same results!
Massive consistent action with this formula will guarantee that you get additional 10-15 visitors to your blog every time that you write a post.
If you liked this post and the secrets it reveal, and you are serious about taking your internet business to the next level, you can,
free of charge
, subscribe to our weekly webinars held every Wednesday, where top online marketers share their top-secret strategies. To your success! Hezi & Adriano <a href="http://www.freedigitalphotos.net/images/view_photog.php?photogid=1671″>Image: Kittikun Atsawintarangkul / FreeDigitalPhotos.net</a> PS: You can get updates like this and others by entering your name and email in the top right box of my site.
PSS: If you don't have a plan for your success check this out (but only if you are serious about your business).  

Click Here For Immediate Access
If you enjoyed this post about our traffic secret formula RSS, we would like to hear your thoughts, so leave your comments below. Do us a quick favor and share it with others.
The following two tabs change content below.
Online marketer, social media expert, and all around great guy. Hezi coachs people on internet marketing and on how to make money from home.
Latest posts by Hezi Hershkovitz (see all)