I had crazy days lately. Everybody wants to get abroad GVO, and the phone is ringing continuously. Below is a proof that sometimes hard work is paying off: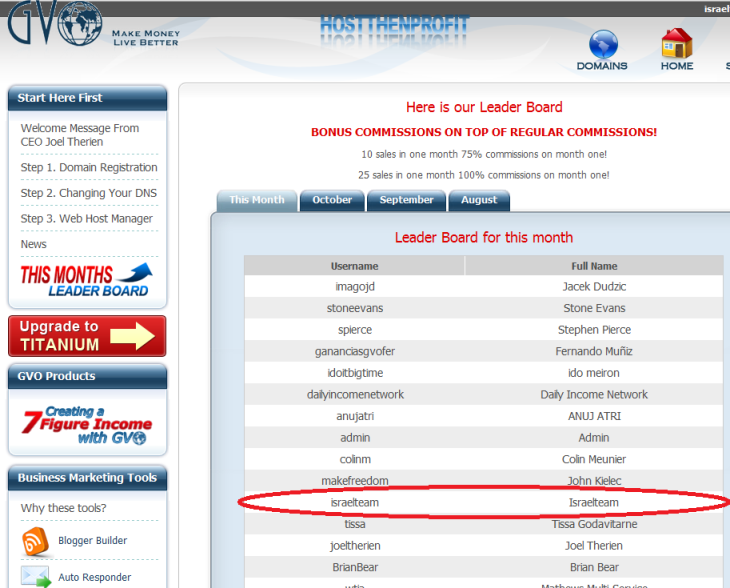 My team has passed even Joel Therien, the company CEO. And this is only after 3 days in the program, and it looks as if this is just the start.
GVO-hostthenprofit is a NEW worldwide opportunity. It is based on GVO services, but the price and the compensation plan are different.
Hostthenprofit is a revolutionary product. It allows everybody to start market online with as little as $10 a month. For that price you every tool that you need for you online business:
Hosting (cPanel) & an Autoresponder – Must have services for every online marketer.
Web conference room – For Opportunity meetings or coaching your teams.
Video Hosting  – Own the rights for your videos because free video sharing services >can some time close.
Internet Academy – Learn to market online from the bests. There is a webinar every Saturday
This is in addition to a great compensation plan paying you for 10 generations deep! This can mean hundreds and even thousands of dollars passive income every month.
This is a post that one of my team members posted today in our closed Facebook group: "I recommend everybody to start fast, this is a very simple business, highly duplicatable, and for a very low starting fee. Talk to 10-20 people, and you will sponsor 5-10. Let's Rock!" Did I mention that timing is critical and the sooner you jump onboard, you have bigger chance to achieve success? If you want to be a part of my team and learn the secrets of our success, you are more than welcome.
It is only $1
for the first week and then $9.97 for each month (and you get a complete internet marketing package). Click below to secure your position in my fast growing team right now:
http://israelteam.hostthenprofit.com/
To your success! Hezi skype: hezi.h
The following two tabs change content below.
Online marketer, social media expert, and all around great guy. Hezi coachs people on internet marketing and on how to make money from home.
Latest posts by Hezi Hershkovitz (see all)