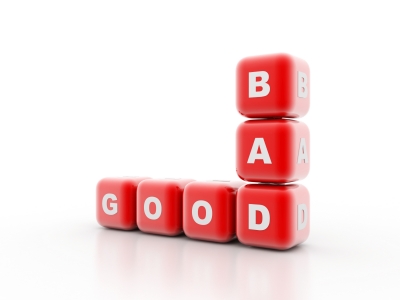 This is a guest post written by someone that we met through the 
My Blog Guest
site. We feel privileged to host his post here in our site, since it is always a pleasure to help others in the blogging community.
Differentiating between good debt and bad debt
Debt in general is considered to be bad because you are required to handle the debt payments and you can end up saving nothing for yourself each month. In fact debt is a thing that is to be avoided at all costs. But there are some debts too that are good for you because you are incurring it for some useful purpose and not simply borrowing the money to buy something that is not of much use but is only a thing of your liking. There are various debt relief options that can help you to get out of debt but first of all it is important for you to know what is bad debt and what 
good debt
is.
What do you think is bad debt?
Borrowing money for your impulse buys, using credit cards just at the drop of the hat, and so on are considered to be bad debt. The debts that worsen your financial situation and hurt your credit more are bad debts. Thus, mainly the things for which you use your credit cards, the things that you would have been able to do without are the ones that result in bad debt. Using your credit card to pay your medical bills, or may be your utility bills and so on is also bad debt. The best way to avoid incurring bad debt is lowering the usage of your credit cards.
What do you think is good debt?
You may be astonished to learn that debt can be good. But, yes debt can be good too provided you are investing your money into or for something that has some importance in your life and you may even be able to get good returns from that. For example, if you are going to invest your money in any of the investment vehicles like stock market or the forex market, in gold, or may be in the real estate market, it is your 
good deb
t. Not only this, good debt can also be the home loan that you are going to take out or the one that you had taken out in order to get your home. In addition, if you borrow money for your education purpose or may be for the education of your child, it is 
good debt
too. However, getting a mortgage of your home can be bad debt too if you apply for a home loan for an amount that is more than what you actually require. So, in order to stay within your limits and to avoid incurring bad debts, you can use a 
mortgage calculator
in order to get a home loan as per your affordability. In addition, it is also important for you to always check your credit report from time to time and make on-time payments on all of your debts. Moreover, before investing your money in any kind of investment vehicle it is important for you to have a clear knowledge on the options.
About the author
Powell is a regular writer with 
Discussion of the day
and is also a contributory writer with other financial sites. His expertise is woven around various aspects of the debt industries with topics like wage garnishment, tax liens, bill consolidation etc.
Image: jscreationzs
The following two tabs change content below.
Online marketer, social media expert, and all around great guy. Hezi coachs people on internet marketing and on how to make money from home.
Latest posts by Hezi Hershkovitz (see all)