If you want a
Google+ Invite
then you definitely have got to the right place. By the end of this post you are going to know what the fuss Google+ is all about, and how you can get an invite from me. Google+ is the new social network officially published by Google only a day ago. From playing around with it for a couple of minutes and reading a lot about it in other blogs (took me ages to get an invitation) it seems that very promising. So, does Facebook have something to fear from, or is Google+ going to be just another flop like Google Buzz?
What will you see inside after getting your Google+ Invite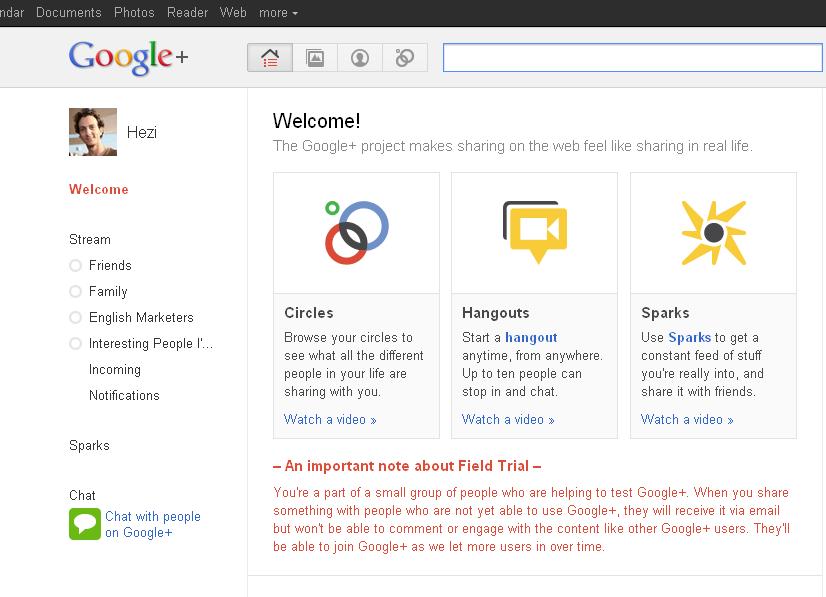 Google+ is a lot like Facebook, but there are several new features which bring completely new concept.
Circles
The concept of Google+ Circles come to solve a known problem that a Facebook Friend is not a "real" friend, but in some occasions just "someone I made an eye contact with in a party 12 years ago". The fact is that many people don't like the fact that they are sharing their information with people that they don't really know. Google+ Circles offers better segmentation to the people you know. You can make a circle of "close friends", "family", "work colleagues" and control the information that you share with them. In addition, you can follow people that you find interesting even if you don't know them.
Hangouts
Live multi-user video conferencing that permits friends to drop in and out of live group conversations. The reaction I have read about this feature say that it is a lot better than Facebook chat and that it simplifies the coordination of an event.
Sparks
Similar to you sharing stories on facebook, Google has planned for sparks where you can initiate a spark by starting a thread of interest in a circle which has the same common interest as you for this subject.
Mobile Phone Integration
Google has created a native Android app and an HTML5 "web app" for iOS. Instant upload allows you to quickly access pictures online or upload images and video from your phone.
Does it worth to have a Google+ invite?
Google+ looks and feels like a mature product. So far I haven't noticed any bugs with it, and everything seems to work just as it should. Above all it seems that Google+ is very well integrated with all the rest of Google services. I believe that Google+ will find many people that are going to like it. And if no major bugs are going to be found in the near future, it can become populated very fast.
How to get your Google+ invite
If you want to get started right now with Google+ before everybody else, you are going to need an invite. I will give this invitation, but I want you to do the following things:
Follow me on twitter (@hhezi).
Like our facebook fanpage (SuccessHowTo)
Share this post in facebook, retweet this post, and prove it to me by posting you tweet here in the comments.
Do these simple tasks and I will send you an invitation instantly.
Disclaimer
: Google+ is still in beta testing, and I am not responsible for any bad things that might occur if you decide to join in. At the moment it certainly seems that Google made their homework, and created a social network that can compete very well with Facebook. They have unique features that Facebook doesn't have, and with improved control over your privacy, it can be very interesting to see what will happen with it in the future. Hezi Hershkovitz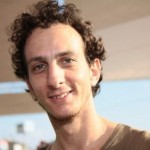 PS: You can get updates like this and others by entering your name and email in the top right box of our site.
PSS: If you don't have a plan to get success in life, check this out:  Click Here For Immediate Access
If you enjoyed this post on how to get a Google+ invite , I would like to hear your thoughts. Do me a quick favor and share it with others, and leave your comments below.
The following two tabs change content below.
Online marketer, social media expert, and all around great guy. Hezi coachs people on internet marketing and on how to make money from home.
Latest posts by Hezi Hershkovitz (see all)