Most online entrepreneurs have been using and taking advantage of the benefits from viral marketing. If you are just starting out, then you will definitely want to know more about it. This type of marketing gives you viral traffic for free, which means your product or service, will be seen by thousands of people around the globe. On this note, be sure to do your bit of research on viral traffic so that everything will go smoothly. One of the best ways that we have come across is
FREE VIRAL
. If you have a blog and you want to increase the traffic to your website it is defently something for you to check out. The first benefit of 'FreeViral.com' is that it is
completely free
. It has a completely basic enrollment process, and I didn't get any spam messages since I enrolled to this service about 2 weeks ago. The way that it operate is as follows: Once you enroll to the service, before you get a chance to start promoting your website,
you will have to watch 6 sites for 40 seconds each
. Only after you have been 40 seconds in each site, you will get a code, that will let you continue to the next site. And now comes the beautiful part: When you completed your registeration, you get copy of the site with your referal link,
with your site in the top of a list of 6 websites
that the people you refer
have to see if they want to join in
. And in the copy of the FreeViral website of your 1st generation referal, your ad for your site will be in the second place, so forth until the 6th generation. Now it all goes down to how many people you can, and your network can, promote FreeViral. If you, and anyone in your network refer only 6 people it means 50000 unique views to your site. However remember that there is no time limit (at least as long as FreeViral website is alive) and it doesn't cost any money. Just make sure you promote it well, and put it on a good place in your website so everybody can see it. By the way, just in case you are wondering what is in it for the people who started the whole business if they are not getting any money out of it: Before watching the 6 sites, you will have to watch 40 seconds of their promotion, so they too get free advertisement, and we believe that they are entitled for it because of the work they have put to build this system and maintaining it. Everything that I have seen about this site seems legit. I actually have started to see incoming views to my site in my google analytics that came from the site as you can see in the image below: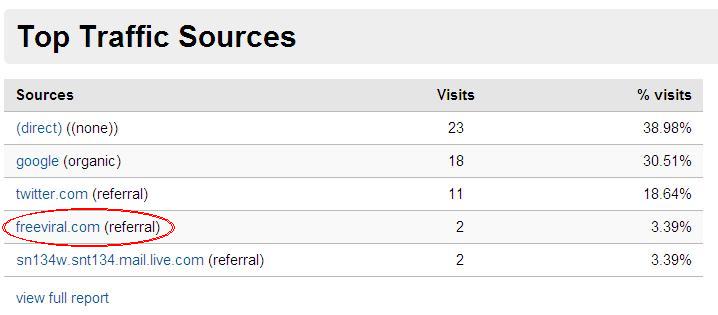 The image is taken from analytics for a site that we have just began promoting so this is a reason why the traffic is so low, but still it is a proof that the concept is working, and we expect to see a lot more traffic coming from this source in the future.
It is obivious that the traffic coming from FreeViral is not targeted and probably most of the viewers that will come through it will just pass through the site, increasing your bounce rate. However, if you are just beginning your blogging career and are looking for FREE source of traffic to your blog this can be a solution for you.
Recipe to to make FreeViral work for you:
Join Free Viral by enrolling to the site
Complete the registration by watching the 6 sites that are sent to you in the mail (takes about 5 minutes). If you are lucky you might see interesting sites on the way.
Get your referral link which should be something in the form of: http://www.freeviral.com/?r=361746
If you have blog, write a review about FreeViral, and add your referral link to it.
That's all. It is about 30 minutes work, that over time means a lot of traffic to your blogs, increasing your alexa rank, which is a critical ingredient when it comes to the visibility of your site and keywords in the search engines. If you liked this review, then I am looking forward to see you in my first generation referal :) If not, I am waiting for your comments.
The following two tabs change content below.
Online marketer, social media expert, and all around great guy. Hezi coachs people on internet marketing and on how to make money from home.
Latest posts by Hezi Hershkovitz (see all)