{EAV_BLOG_VER:633389af4981e501}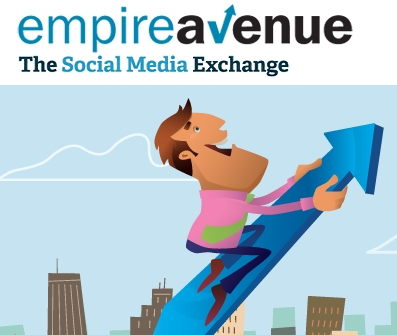 It hard to define what "
Empire Avenue
" is, but you will be able to connect with a lot of people and drive traffic to your blog using it. It is a social media Stock Exchange where you, or a business with social media presence are publicly traded. You probably didn't understand what it means and what is it good for. At least I didn't when I first heard about it. But when I heard that many people that I know and respect are using it, I decided to give it a second look. Here a short video that I made to explain it all:
Introduction to "Empire Avenue" Stock Exchange
Your share price is defined on how much you interact on social networks, and who else is investing in you. On the other side there are investors, who look for new information on the web, and when they find you they can drive your stock price up. It is like a game, but a lot of famous names from the online blogosphere are already inside
Empire Avenue
. I have seen Guy Kawasaki, Chris Pirillom Ann Sieg, Liz Strauss, copyblogger. So if they are there playing, there is probably a good reason behind it. And the reason is probably that you can meet a lot of people and connect with them, and this is what blogging and social media is all about.
What can I gain by joining "Empire Avenue"
You can join groups that are based around a specific subject and meet even more people. It even allows you so search for people and brands from your local area. You can check the leader boards, so you get familiar with who is really a hot "stock" on the web today. To know who is really hot you can check daily gainers. One more thing that you can do with "
Empire Avenue
" is to check who your gurus are investing their "eaves" (the virtual money on "Empire Avenue") on. If you have a blog, youtube channel, facebook fanpage you will see more traffic coming to your content, because some people will want to learn a little about you before they "invest". And if you are a good investor and you gain "eaves" wealth, you can use it to place ads inside the site, to promote yourself even further.
But what actually you do with "Empire Avenue"?
Well..  if you are ambisious, you can play to try to win the game. You can "win the game", by having the best stock value or you can win by becoming a millionare in net worth, which means that you know who to invest in. At the end of the day, it is a unique way the handle your social network activity. "Empire Avenue" let you know how much you really worth, compared to others in the web. It can be very addictive to see your stock price go up, so be very careful with your time. My stock share at the moment (just joined a couple of hours ago) has already went up about 14%! It is 23.12 right now, but I expect it to be around 40 in a few days, so if you decide to join do it fast and invest in me (my ticker is HHEZI) do quickly double your money. —> 
Join "Empire Avenue"
right now (it is free). <— When you join drop, me a message, so I can check you out and make a quick profit :) See at the top of the leader boards! Hezi Hershkovitz Join me on my Facebook Page:
Hezi on Facebook
Follow me on Twitter:
Hezi on Twitter
PS: You can get updates like this and others by entering your name and email in the top right box of our site.
PSS: If you don't have a plan for your success check this out .  Click Here For Immediate Access
If you enjoyed this "Empire Avenue" review, I would like to hear your thoughts, so leave your comments below. Do me a quick favor and share it with others.
The following two tabs change content below.
Online marketer, social media expert, and all around great guy. Hezi coachs people on internet marketing and on how to make money from home.
Latest posts by Hezi Hershkovitz (see all)