WOW! We just have our first 600 visit day! The cool thing is that there is no magic-pill or unrevealed secret, and you also can do it big in 2012. In this post I will give you some insights that will really help you on that. It's amazing what you can achieve when you make things right.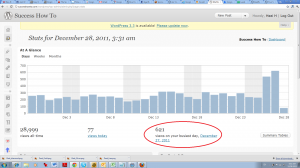 How to achieve anything you want in life ?
Like I said, there is no magic-pill for it. Just find someone that is achieving the results you want and use them as a role model to your success. We are Internet/Network marketers so we use as role models a few leaders inside
MLSP
like Ray Higdon, Mavis Mong, and April Marie Tucker We are reading their blogs, following them on Facebook, buying their products. We just bought
Ray's mastering course
and it's a master piece, the best investment you can make in your business if you are not sponsoring a ton of people yet (and believe I bought a lot of courses from many Gurus) . Just by applying a few principles of what Ray teaches on his 1
st
module, we really improved our sponsorship rate. Ray's stuff works !! You can read a few insights that you can immediately apply for your business at
How to Get People To Buy From You
.
I recently talked on Skype with Mavis and April, and it is amazing how much I got from these 2 top leaders! Mavis explained how she uses commentluv to get more comments in our blog and
April
has probably the best sales funnel I ever see. Of course, all 3 have really hot state-of-the-art cool blogs with lot of content and if you are serious on generating leads on internet, you should also learn how to blog efficiently. So here is just a few tips on what we did, so you can start to get the kind of results that we are having just now!
Our best tips for get tons of traffic to your blog
Content is the king
: There are a lot of ways to get a bunch of people to your site, but this will not help unless you have great hot content.
Get connected
: It is not only about you, it is also about who you know!  Use social media to interact with people with huge lists. Again the key is to give value to people by sharing meaningful messages and having a conversation with people. The key here is to give value without expecting to receive! There are universal laws.  If you give to the universe, the universe will give you back (well ,I believe this is just God hands paying you for a good service)
Be part of the blogosphere
: Read and comment blogs that receive a lot of traffic will help you in 3 ways:
You will learn a lot by reading good blogs.
You will receive a back-link to your blog that will improve your SEO rank and help you to get more organic traffic.
Comments will improve your visibility, as people will see your comments and if they like them, then they will go to your sites to check for more!
We just
add commentluv to our blog
, so know you get even better back-links: every time you leave a comment, you can choose one of your latest posts to appear on it. Check it out for yourself now! If you are serious about blogging I strongly recommend Ray's course. The cool think is that you get it free when you buy his master sponsoring course, so you will be able to not only get more traffic, but also to convert it to sales!!
=> Click here to check Ray's course
MLSP changed 2011 for me
If you are serious on making 2012 the best year for you, I strongly recommend you to get
MLSP
to start getting educated on all the skills you need to make money on the internet. And since we really want you to succeed,  I'll give a 30-minutes FREE consultation for anyone that gets 
MLSP
from our link. It's only 9.97$ for a 2 week free trial and if you are not a 100% satisfied you can cancel it anytime. MLSP totally changed my carrier, and I want it to help you like it helped me. Just a way to pay back the universe.
=> Click here to learn more about MLSP <=
Hezi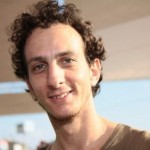 Join me on my Facebook Page:
Hezi on Facebook
Follow me on Twitter:
Hezi on Twitter.
Skype: hezi.h PS: If you want to create a new income stream that doesn't interfere with what you are already doing,  check how I make $70 a day in 5 minutes work =>
Click Here
The following two tabs change content below.