Recently I started to use
BetterNetworker
to get free mlm leads.
I use a lot of Social Media to generate
free mlm leads
(and I'm still doing great on FaceBook/Twitter), but I just started to do the same on BetterNetworker: BetterNetworker is a site created by Mike Dilard that have more than 60.000 networkers from all the world. Mike, is considered the God Father of attraction Market and has created the first MLM attraction market free course. (This is a mandatory free course if you want to be successfull, so click here to
get Mike's free attraction market course
) .
Why use BetterNetworker to get
free mlm leads

:

–

It's very niched

: I like to generate highly qualified-niched  mlm leads. My ideal niche is people that are already inside the industry and that's exactly what you will find in BetterNetworker. –

It's a great place to be inspired and get some ideas

: Today I was looking for something to write for this holiday season, so I just got into BetterNetworker, made some research and got some really cool ideas. –

You can make connections with top leaders in the industry

: BetterNetworkeris a community where most of the content is created by networkers that understand how attraction market work, e.g. helping other to be successful. So it's a great place to get help from top leaders. –

There is less SPAM and less unqualified people

: so you waste no time with people that want to prove you that MLM is a pyramid.
How to use BetterNetworker to get free mlm leads:
1) What I like the most here is that people in BetterNetwork are realy posting things with great value, so you will get
free mlm leads
and learn in the same time. So one way to get some leads is by just putting comments on the posts you read. 2) Interact with people on the forums: You can put your questions about Network Marketing in the forums inside BetterNetworker and people will ask with some good answers (and some bad also). Of course you can also answer other people questions in the forum, and this will position you as a leader. In both cases, you can have your signature at the bottom, so you can get people clicking your links and going to your site/capture page. 3) Simply send messages to people you like and expand your networking: Almost all users of BetterNetworkers are Network Marketers, so you don't need all the bla-bla ice-breaking like in FaceBook. =>
Click here to go to BetterNetworker site
Or Click the icon below to access BetterNetworkers
Click Here for more free mlm leads generation techniques
To your success, Hezi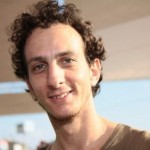 Join me on my Facebook Page: 
Hezi on Facebook
Follow me on Twitter:
Hezi on Twitter.
Skype: hezi.h PS: Feel free to call me to check whether this technique is the most apropriate for you or not.