I appreciate you contributing to my site by making your first comment at SuccessHowTo. My goal is to provide helpful and useful resources to our audience. I am determined to help you achieve success in your business! If you feel that that there is any field that that you want more help (getting leads, traffic generation, prospecting, blogging, etc.), feel free to comment and let me know. I value your feedback and suggestions very much, and I will do my best to help from my own experience.
A license to "steal" my traffic!
1. This is a 
Commentluv premium
enabled blog; the more you comment the 
more number of backlinks
you get. 2. I feature top commenters of the month at the sidebar which is visible site-wide; that's 
a lot of exposure
.
What to do next:
I recommend that you subscribe to get updates on new posts by
RSS reader
(or by
email
). Check out the
free online marketing training
section and the
recommended resources
page to learn how I am building my business. If you are looking for a simple way to make money,
this is something that is working
very well
for me . VERY VERY WELL actually, and I can show you have it can work for you too. When you will see it you will think "No way.. it is too good to be true". I thought that too, but hey, it is true :)
Want to learn the insider secrets?
Sign up in the form below, and I will send you a
step by step course
on how I build my online business and how you can simply copy what I am doing and achieve the same success! To your success, Hezi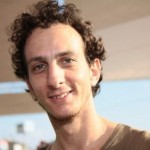 Join me on my Facebook Page:
Hezi on Facebook
Follow me on Twitter:
Hezi on Twitter.
Skype: hezi.h