Congratulations!! You are in!
Please check your email for your free video. In case you don't get the email in a few minutes, please check your SPAM folder.
In addition for the promised video, you are going to recieve a bonus!
A step by step email course that will teach you the exact same system that I used to build this blog and make me money online, so you can do it too!
Note that I from time to time will send you alerts about new blog posts or offer additional services and assistance in your marketing. You can unsubscribe permenantly at any time. Please read my privacy policy for more information.
I believe that you are going to find the information inside the mails very valuable for your business. In any case I am always here if you have any comments, thoughts, or feedback.
Feel free to connect with me any time.
To Your Success!
Hezi Hershkovitz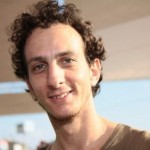 Join me on my Facebook Page: Hezi on Facebook
Follow me on Twitter: Hezi on Twitter