In this Rippln review we are going to show you why is everybody talking about it, and we will give you as much information about this program so you will know whether or not you want to get involved with this company.
This Rippln review can help you even if you have already joined the company, since it will give you additional information that you don't know about.
Rippln Review – The company
Rippln is the brain child of Brian Underwood, Jonathan Budd and Terry Lacore. The 3 of them are very experienced and respected entrepreneurs, with a proven success record. Brian Underwood and Terry Lacore have dozens of years of business experience, and Jonathan Budd is a genius marketer who has made his first 1 million dollar at the age of 25. All of them have helped thousands of people to start making money from their home businesses.
Rippln motto is that it is time that for us to get paid for our own "social graph". What exactly is "social graph" and why should you care about it?
Social graph is the amount of influence that you have on the marketplace. Think about it, when was the last time that you shared an app, or a website, or a service or any other product just because you liked it? When you shared it you started a "ripple effect", since your friends probably shared the information with their friends as well and so on and so on.
For some companies, your social graph means a lot of money. Some of the biggest companies today owe a huge part of their success to a word-of-mouth free viral marketing done by their current users: Facebook, Youtube, Twitter, Whatsapp, Voxer, Angrybirds and many many more. These companies are making billions of dollars because you shared them with your friends.
Facebook for example is valued 70 billion dollars, and it has about 700 million users. this means that an average Facebook user worth about $100. How many friends do you have in Facebook? How many people joined Facebook through friends that you shared Facebook with? The truth is that we will never know. Facebook doesn't track this information. But Rippln does (through a unique invite system) so from now on you will know exactly what is your impact on the marketplace.
What would you prefer to share: An app, or an equal app that will pay you money according to the amount of business that you have created for it?
Assuming that they are both the same, you would should prefer to promote the paying app to you friends. That is, unless you are stupid or something…
So this is what makes many people so excited about Rippln.
Rippln Review – Is it just an app deal?
But how can people get so excited about an app? At the end of the day, isn't it just an… well, app?
BREAKING NEWS: "Apple Apps Downloaded Over 50 Billion Times"
50 Billion Apps. It's hard to believe that Apple has sold so many apps in such a short time – in a matter of years,
that number will hit 1 trillion.
Millions of new users are still connecting to these app stores for the first time, each and every day. This is not a trend that is going away.
Many people are not aware how profitable an app can be. Facebook paid $1 billion to acquire Instagram, Zynga is valued over $3 billion, Even a small app that you might have not heard of called "Clash of Clans" is currently making over $2 millions a day just from in-app purchases!
But the vision of Rippln is much bigger than "just an app". Rippln is going to be a platform that will support the promotion of all kinds of services and products, much like Ebay and Amazon.
And of course, once a sale is being made anywhere in your ripple, Rippln will pay a commission for the corresponding players that were responsible to introduce the person who made the purchase into the company.
Rippln Review – Should You Get Involved
One thing is for sure: it doesn't cost anything to join Rippln and be a part of the movement.
I don't know of any other program right now, that has so much potential, that you can start for free. I have seen people that have built ripples of thousands in less than a week, reaching dozens of countries around the world, without any prior experience in the industry. No lists, no websites. Pure word-of-mouth marketing.
When was the last time that you told about an app to your friends? Rippln is exactly the same! The only difference is that they are going to pay you for your effort!
See this funny video that we shot in Las Vegas with my business partner Adriano Leszkowicz, together with Curtis Broome and Lisa Grossmann, great business friends who built several multi millions business in the past and very successful players in Rippln:
And if you haven't joined Rippln already, click on the link below to request a free invite
To your success
Hezi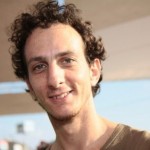 Join me on my Facebook Page: Hezi on Facebook
Follow me on Twitter: Hezi on Twitter
Connect with me on Google+
Onine marketer, social media expert, and all around great guy. Hezi coachs people on internet marketing and on how to make money from home.
Latest posts by Hezi Hershkovitz (see all)