This Banners Broker Review should help you evaluate whether it is a good step for you to get involved in the opportunity.
I have been hearing a lot about "Banners Broker" lately. A lot of my friends are calling and asking me about it. After all, who wouldn't be curious about an opportunity to double your money in a few months?
So, the question is "Banners Brokers" too good to be true? This is what this Banners Broker Review is set to find out.
Banners Broker review of the company
The owners of this company are Kul Josun, VP of marketing and sales, and Chris smith and they are based in Toronto Canada. The company started on nov 2010 so it is still pretty young.
The market that this company is operating on is the online advertising of banners, and it is clearly a trending market as companies divert a larger portion of their budget to online advertising at the expense of the traditional print advertising.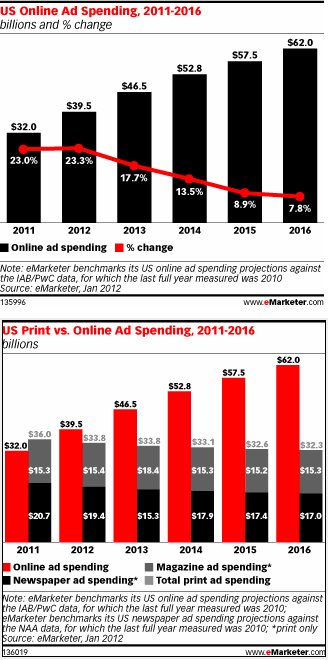 As the name of the company implies, Banners Broker serves as a broker between the advertisers and the publishers.
It is similar to the way Google serves as a broker between the advertisers and the publishers with Google adwords and Google Adsense:
Google Adsense is the publishing side, where websites' owners allow Google to place ads on their website.
Google Adwords is the way that people who wants to advertise online pay Google. Google then pays the website owner a portion of that money.
In other words, Google connects between website owners and advertisers, and takes a portion of advertising money as a brokerage fee, and this process is generating billions of dollars a year for Google.
My Banners Broker Review shows that this is exactly what Banners Broker does. Banners broker connects between publishers and advertisers online, and takes a portion of the money as a brokerage fee.
The difference is that Banners Broker shares a portion of the money with their customers.
A customer in Banners Broker is someone who pays Banners Broker to buy an advertising space on its websites network. Banners Broker then sell this advertising space to advertisers, pays the website owner, and split the revenue with the customer.
What makes Banners Broker unique, is that as an advertiser, this program will eventually pay you twice the amount of advertising that you bought.
The reason that Banners Broker can do that is because they buy their advertising space on wholesale, using their increasingly huge buying power. They then resell this advertising space on retail price.
There are currently around 20000 customers. The site and the compensation plan was just renovated website on January 2012, and since then the site has gained much attention as can be seen in the alexa traffic report: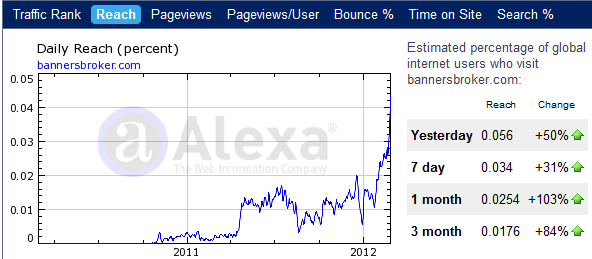 Banners Broker review – Compensation plan
When you join the program, you buy what is called an Ad-Pub Combo package, which means that it includes advertising and a publishing sections:
- In the advertising section, you will get impressions (eyes on your banner ad).
- In the publishing section, you are renting advertising space and you are getting paid to do so.
There are 6 types of packages that you can start with:

1. To the initial package cost you should add the admin fee ($15 standard, $100 premium)
2. Each Package contains the all the panels that are included in the package above. Therefore, for example, the cost of the business package is the sum of the yellow, purple and blue packages: 10+30+90=$130
3. Each Package contains the all the panels that are included in the package above, and therefore the number of impressions in the Business package is the sum of the impressions in the yellow, purple and blue packages: 1000+3000+9000=13000
4. Twice the cost of the panel
5. Estimated number, based on historical values.
Banners Broker review – Can you make money
With the current compensation plan, yes it is possible to make money. The compensation plan is not easy to understand, and actually some people prefer to let others manage their account in order to maximize their earning.
You should remember that this is a startup company, and therefore the stability of this company relay heavily on the management and leadership team.
There are 3 reasons why you can be interested in Banners Broker:
1) You just want to advertise your business: You can find cheaper places to place your banners, but Banners Broker is the only one that will actually pay you back more than the cost of the advertising you bought.
2) You want to make some money online: Well, if you know what you are doing, you should be able to make money.
The 3rd option is that you want to make a lot of money. It is certainly possible to make a lot of money with this program, but you will need to know how to find people that are looking for opportunities like that. You will have to master getting leads online, prospecting and how to talk to them in order for them to join you.
This Banners Broker review was written specifically for people who are looking to make real money in the online marketing industry. Sadly, without the proper training, most fail to achieve real success.
To be the best, you should learn from the best and this is exactly what I have done with the system that I use.
=> Click here to learn about the system that I use <=
If this Banners Broker review is still not enough for you to make a decision, then I want you to know that I have studied the compensation plan of Banners Broker for a long time now. If you want some tips on how to maximize your earnings, contact me directly.
To your success
Hezi


Join me on my Facebook Page: Hezi on Facebook
Follow me on Twitter:Hezi on Twitter.
Skype: hezi.h
PS: If You Still Do Not Have a Step-By-Step Blueprint For Success, Check This Out (Unless You Already Have Too Many Leads) – Click Here For Instant Access
.
Onine marketer, social media expert, and all around great guy. Hezi coachs people on internet marketing and on how to make money from home.
Latest posts by Hezi Hershkovitz (see all)